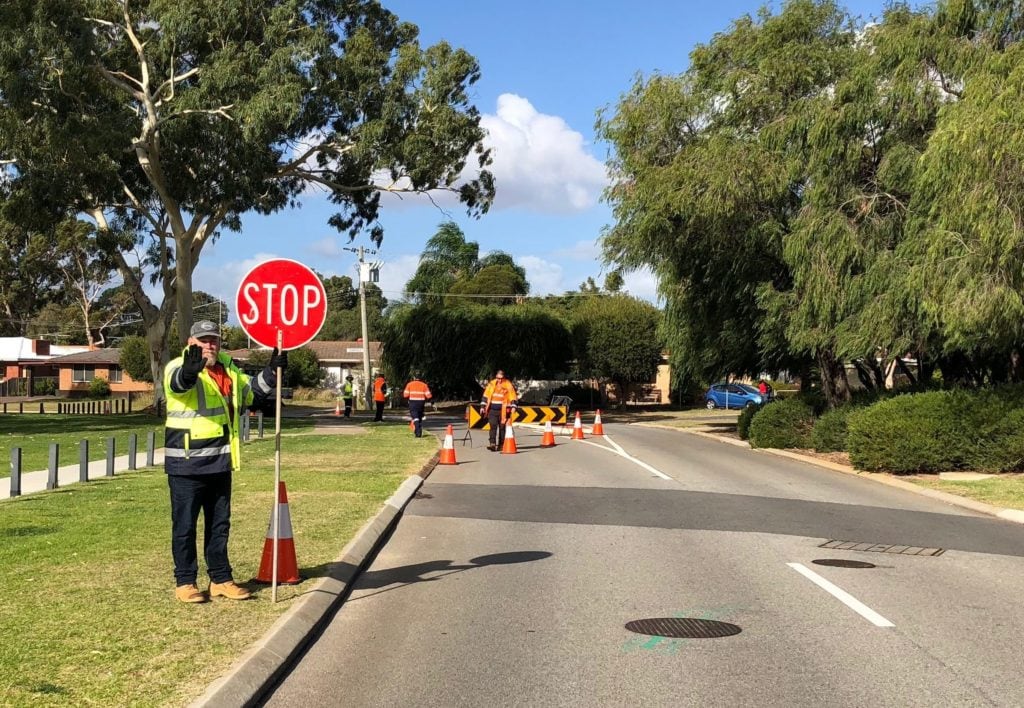 Course Information
Introductory Special Price:

$450

Study level:

Basic

Class size:

15 students

Location:

Queensland

Price

500
QLD Traffic Controller Course (TC)
QLD Courses, Traffic Management QLD
This short course will provide participants with the skills and practical knowledge to control traffic with a stop-slow bat on roads within QLD. If you are looking to start working in the traffic management industry, then this is the course for you.
This course is made up of two components and participants must successfully complete both components before being deemed competent:
Classroom Component (1-day) Participants will be exposed to a variety of learning methods, presentations, group activities, demonstrations, and simulated and practical activities to provide participants with the opportunity to practice their new skills and prepare them for their vocational placement.

Vocational Placement (20-hours) This is a placement on the job at a roadwork site where participants will gain experience a range of practical activities including performing stop-slow traffic control under close supervision. This part is fully coordinated with WARP Traffic Management and is to be completed within 3-months of training.
This course is an approved traffic controller training program through the Department of Transport and Main Roads Queensland and will provide the knowledge and skills necessary to safely control traffic with a stop-slow bat. For more information on this course please refer to the TMR Traffic Controller  Information Sheet and FAQ.
Course Outcome:
Upon successful completion, students will be issued with a nationally recognised Statement of Attainment for the following units of competency:
RIIWHS205D – Control traffic with stop-slow bat
RIIWHS201D – Work safely and follow WHS policies and procedures
RIICOM201D – Communicate in the workplace
This is the documentation required to apply for accreditation as a Traffic Controller with the Department of Transport and Main Roads.
Participants will then need to apply at a TMR Customer Service Centre for a Traffic Control Industry Authority.
There is an additional fee  payable to TMR upon application for a three (3) year Industry Authority.
The current application fee for licences can be found here.
Course dates
Weekday and Weekend courses available
WTA also caters to companies or groups wanting to conduct a private training course, either at your suitable training venue or at our training premises. 
Class times
8:00am – 4:00pm
Students are asked to arrive at least 15 minutes prior to the scheduled course start time, late attendees may be rejected from the course.
Course fees
$500.00
Introductory Special Price $450.00
(Includes Ready Reckoner and 20-hour placement through WARP Traffic Management)
Enquire now for a quote and/or group booking rates or call 1300 019 304
Location
WTA QLD: Unit 1/23 Darnick Street, Underwood, Brisbane, QLD, 4119
Additional locations available on request
Pre-requisites
To become an Accredited Traffic Controller in Queensland you are required to successfully complete an approved traffic controller training course and entrants must meet the requirements as set out in the Traffic Controller Accreditation Scheme – Approved Procedures (TCASAP)
All course participants must:
Meet the medical fitness and suitability criteria, declaring your offence history, medical fitness and training qualifications
Have held an Australian or foreign provisional or open drivers licence within the last five years
Be a minimum of 18 years of age
Have language, literacy and numeracy skills to an ACSF level 2 to undertake this course, if you need more information please call Warp Training Australia.
Provide a valid Unique student identifier (USI) (If you do not have a USI please head to usi.gov.au and create one in a few short steps
It is also a pre-requisite for all Traffic Controllers working on a construction site to hold a Construction Safety Awareness (white card) which must be obtained prior to the course.
Learners who apply to the Department of Transport and Main Roads (TMR) for a Traffic Controller Industry Authority Card after successful completion of the course will be subject to a criminal history check. For further information on accreditation for traffic controllers in Queensland learners must be informed by referring to the TMR information available at tmr.qld.gov.au.
Training day 
Students are required to wear neat casual clothing on the day of the course.
To establish your identity WTA requires that you bring:
Photo ID
Construction Safety Awareness (Blue / White) Card
A valid Unique student identifier (USI)
Tea and Coffee will be provided.
How to enrol
To secure your spot in any of our courses, you are required to enrol online and complete payment for the course. Once this is received, your spot in the course is confirmed and you will receive a booking confirmation.