The TMA course will provide participants with the skills and knowledge to operate truck mounted attenuators when carrying out traffic management in Western Australia.
The TMA course consists of two parts, a theory component and a practical component, both must be successfully completed to be deemed competent.
Part 1 – Classroom Component – this part is delivered in a classroom environment over 1-day and involves a variety of learning methods including presentations, group activities, and simulated and practical exercises to practice new skills and knowledge.
Part 2 – Practical Component – this part involves learners demonstrating their skills and knowledge developed from the classroom while operating a Truck Mounted Attenuator on public roads, including a lane closure in conjunction with a VMB.
Course Outcome
Upon successful completion of this course, participants will be issued with a MRWA Accreditation Certificate and Card for Operate Truck Mounted Attenuator (OTMA), along with a nationally recognised Statement of Attainment for the following unit of competency:
Main Roads Western Australia Accreditations are valid for 3 years.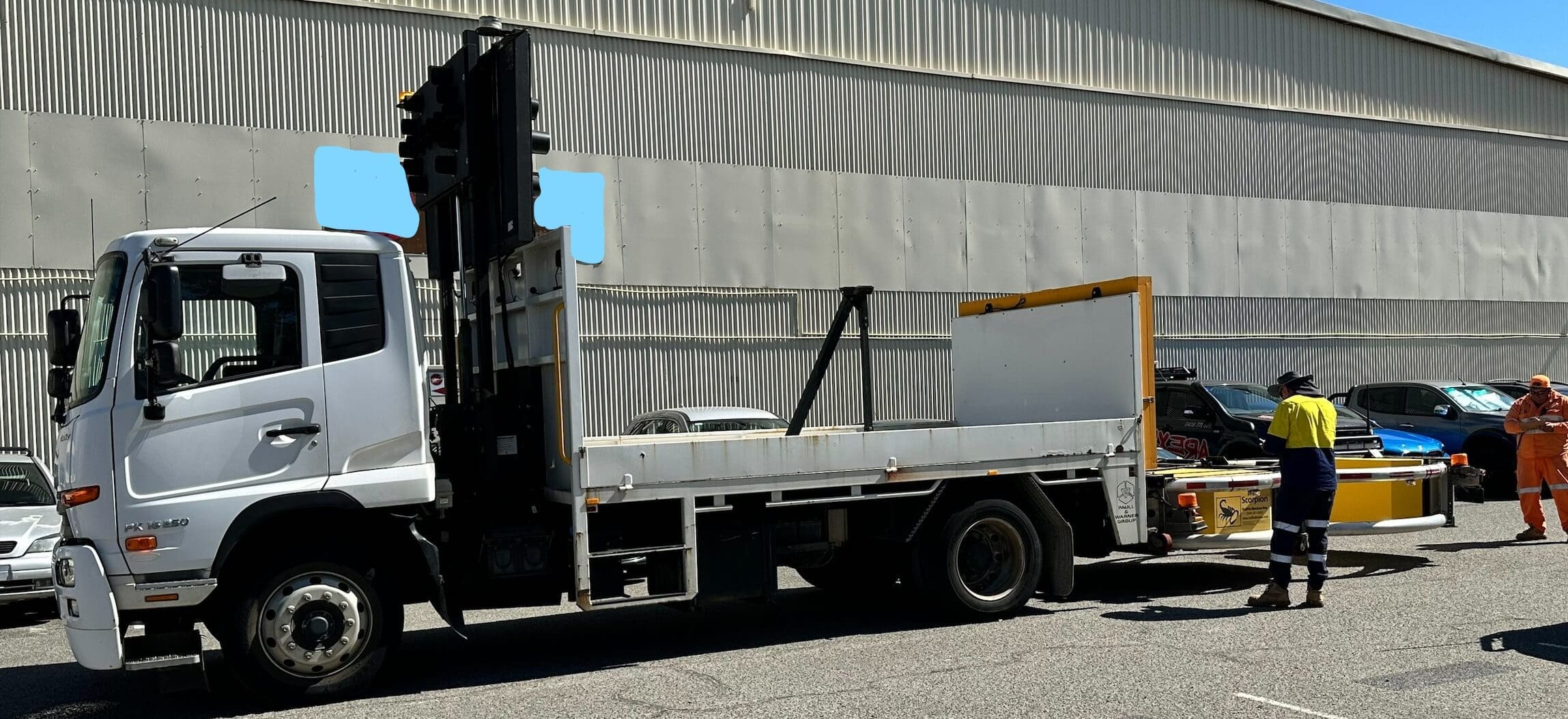 Pre-requisites
Have language, literacy and numeracy skills to an ACSF level 2 to undertake this course, if you need more information, please call Warp Training Australia to discuss.
Hold a valid Work Safe WA Construction Safety Awareness Training card or equivalent (ie. White Card)
Provide a Statement of Attainment in the unit of competency RIICOM201E Communicate in the workplace (or equivalent)
Provide a valid Unique student identifier (USI) [Create a USI Here]
Hold a current and valid heavy vehicle licence of a suitable class to operate the TMA (i.e. a Medium Rigid licence or above).
Provide documentary evidence of at least 50 hours practical experience traffic management in the last 6 months.
Provide documentary evidence of at least 80 hours experience operating heavy vehicles in the last 6 months
Documentary evidence of traffic management experience must include the following:
A signed site specific SWMS, JSA or other hazard assessment used on a worksite by the applicant.
Details of a minimum of 3 worksites with name and contact number of the supervisor  to be verified
Course Location
WTA Head Office: Level 1/310 Treasure Rd, North Welshpool WA
Duration
2 days
Course dates
Warp Training Australia conduct public and private Truck Mounted Attenuator courses on a regular basis.
Please see our Course Calendar for scheduled courses or call us at 1300 019 304.
This course has a minimum and a maximum number of available seats on each course date. Please book in as early as possible to secure your seat and avoid missing out.
If there are no courses available on the course calendar, or if the dates available are not suitable, please call 1300 019 304 for additional dates.
Course fees
Metropolitan Early Booking Rate $900 per person
Metropolitan Rate $976 per person
Construction Training Fund (CTF) SubsidyMetropolitan Introductory Rate Subsidy $496 – You pay $404 per person
Metropolitan Rate Subsidy $496per person – You pay $480 per person Note: This subsidy is available to eligible participants only.
The Construction Training Fund provides funding support for training of eligible workers in the construction industry. We acknowledge the support of the Construction Training Fund in reducing the costs of training for eligible workers.
Class times
Class times may vary slightly based on the location of your course. Times will be confirmed within your booking confirmation.
Students are asked to arrive at least 15 minutes prior to the scheduled course start time, late attendees may be rejected from the course.
On the day of your course
Students are required to wear appropriate safety clothing to conduct the practical component of the training course.
Safety boots (steel caps)
Long pants
Hi-Vis shirt (if you do not have one WTA will lend you a Hi-Vis vest on the day)
Hat
Wet Weather clothing when appropriate
Safety gloves (if you do not have gloves WTA will lend you gloves on the day)
WTA requires that you bring an original copy of your:
Current Heavy Vehicle Drivers Licence
Construction Safety Awareness (Blue / White) Card
MRWA Accreditation Card
A valid Unique student identifier (USI)
How to enrol
Click here to view our Student Handbook.
To secure your spot in any of our courses, you are required to book online, complete payment for the course and return the TMA Pre-requisite form to admin@wta.edu.au
Once you have booked into the course online, we will send you a pre-requisite form which is to be completed and returned along with supporting evidence prior to course commencement.
Please note that WTA will not allow participants to commence this course unless all pre-requisites have been met.
Once this evidence has been reviewed by WTA staff, you will receive an email confirmation with all of the details for the course.